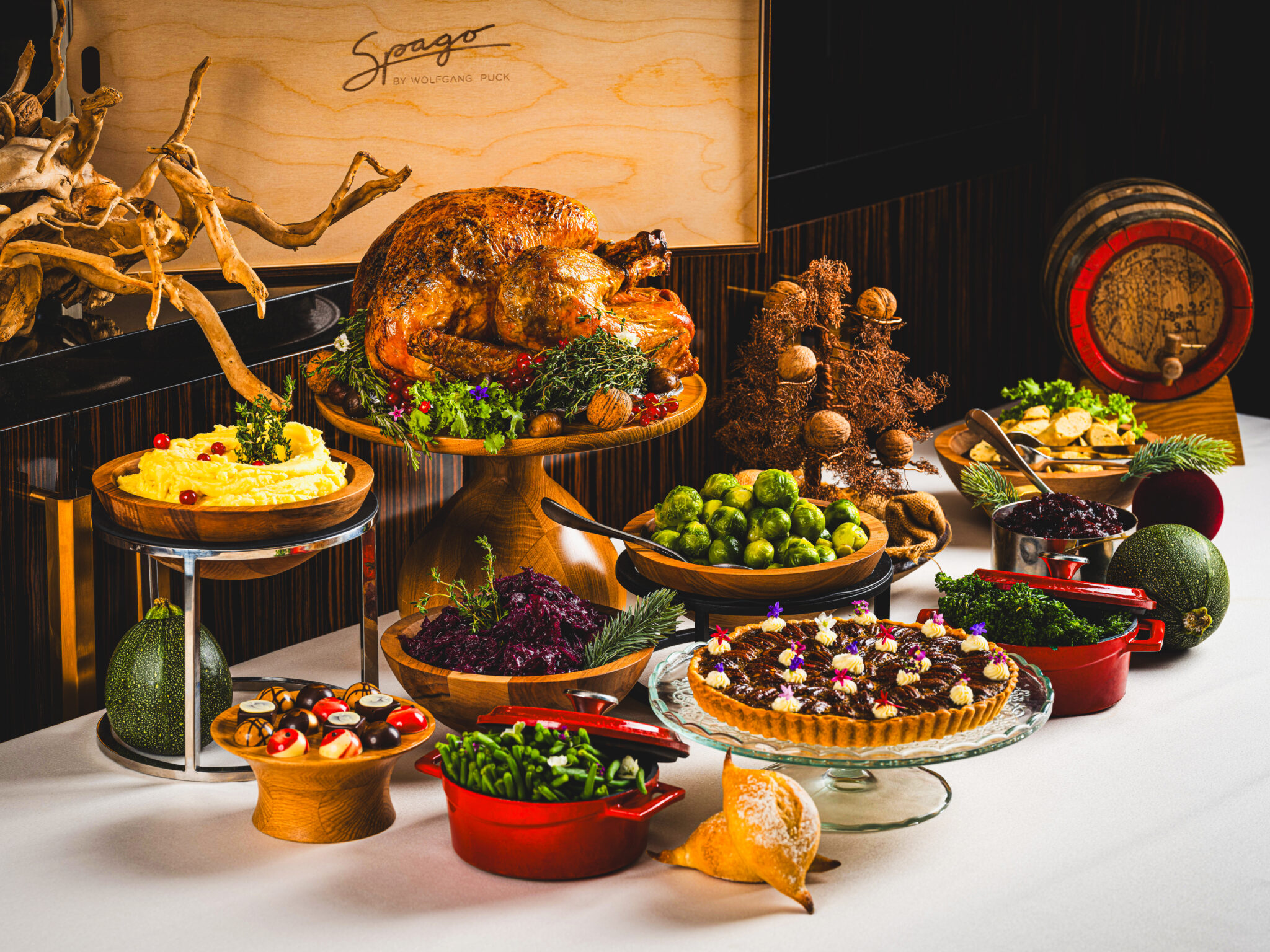 Festive Season Takeaway Family Feast
Available between 19th–26th November & 15th-27th December
Thanksgiving and Festive Season Take-Away Family Feast
Be prepared for a festive experience like no other, presented by the expert culinary team of Spago Budapest! We present to you our spectacular Turkey to Go Menu, a true culinary extravaganza that brings the magic straight to your dining table.
To start: Start your feast with a burst of flavor as you savor our Wild Mushroom Soup, a symphony of roasted chestnuts, sage, and sourdough croutons that will warm your heart.
Turkey to go: The highlight of the menu is the Slow-Roasted Norfolk Bronz Turkey,  a masterpiece prepared by the world-renowned chef Wolfgang Puck's elite team. This succulent bird is accompanied by Creamy Ratte Potato Purée, Sauteed Green Vegetables with Crispy Bacon, Braised Red Cabbage infused with apple and mulled wine, and the pièce de résistance, traditional Brioche Herb Stuffing. All are served with Cranberry Sauce and Roasted Turkey Gravy Sauce to complete the harmony of flavors.
To finish: Conclude your feast with a grand finale by choosing from our delectable pies – Apple, Pumpkin, or for an extra thrill, indulge in our Pecan Pie (additional 10,000 HUF).
Available between 19th – 26th November and 15th – 27th December.
Orders
Booking information: Our Slow-Roasted Turkey, weighing 4kg to 6kg, is perfect for 6-8 guests, ensuring that your gathering is nothing short of a spectacle. If you're expecting a larger number of guests, we can accommodate your request for a larger turkey.
Reserve your feast: +36 70 534 9000 or festive@matildpalace.com
Please place your orders 72 hours in advance to ensure that every detail is perfect for your festive celebration.
Pick-up time is between 2 pm–6 pm, please book your slot accordingly.
Order now